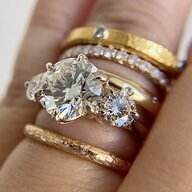 Joined

Jul 25, 2018
Messages

333
You're not alone! This happens to me frequently with PS vendors...including those with whom I've worked before. It happens regardless of whether I'm planning to spend a lot or a little. Maybe they just get super-busy? It reminds me of when I try to hire contractors to work on home projects -- it's crickets a lot of the time!
Crazy! I mean, I guess each vendor perhaps has many requests, most (some) of which result in nothing. But hey! That's part of running a business!
Your comparison to contractors is spot on. I guess I didn't know since my diamond infatuation is fairly new and I haven't purchased many yet. Now, I know better than to expect a reply lol.