Joined

Jan 31, 2010
Messages

466
Happy Tuesday Everyone!
Forgive me if this is in the wrong section, and moderators feel free to move it.
Question, has anyone ever bezel set a three stone Asscher? I found some pictures of round bezel three stone rings, but I have a three stone asscher in a basket setting, and something about the setting bugs me. Maybe it's too high, prongs are thick, I don't know. But I've fallen in love with solitaire asschers in a bezel (lauren comes to mind
) and was wondering if it could even be done with a three stone?
Ideas or opinions anyone?
Here's a picture for reference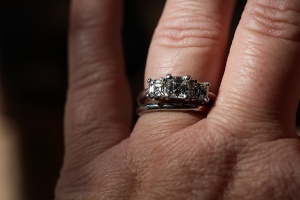 Thanks!
BG