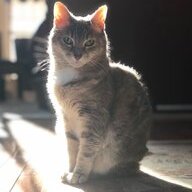 Joined

Jun 17, 2009
Messages

11,637
After a lot of searching I've finally found the perfect eternity band to wear with my OEC. I first purchased an inexpensive half eternity on ebay but the diamonds were just too teeny-tiny. I then bought a Scott Kay half diamond band and initially really liked the blingy look - but started to feel the 3 point stones were just large enough to take the attention from my ering and it sat too high against my fairly low setting.
I finally stumbled on this ring on Ruby Lane - the fact it is my size was a big plus and it looked like the right height. Won't lie - it was more than I really wanted to spend and I had buyer's remorse after paying for it (seller did accept my offer, but still...). I told myself it was going back unless I absolutely loved it. Well, I absolutely love it! It's perfect, just what I've been looking for - sits low on my finger and the diamonds are sparkly and big enough to show up, but it doesn't overpower my OEC, in fact it makes it pop. Oh, and it's a full eternity - what a pleasure not to have to worry about it spinning. It's in great condition too. Still a little upset about spending more than I wanted, but I'll get over it lol. It's engraved with the year 1933 and is a size 4.25
I feel a little silly posting something so small compared to all the gorgeous honkers being shown right now in other posts, but this came today and I'm just so excited about it and wanted to share!