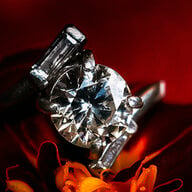 Joined

Jun 27, 2020
Messages

238
I'm in the 2-4 week club!!!! I should be at two weeks, but I'm going to be prepared for 4. Needs to go through several hands to create. This project has been 4 years in the making. Not CvB. But very careful saving and budgeting on my end. I tossed this idea out to her about 7-8 months ago and I finally pulled the trigger.

It's a compass. And I'm a delivery driver. It's has a name, but I think I'll wait to share in a SMTB post. The diamond is one I bought myself 23 years ago, and put it in an heirloom family ring. It's been 10 years since my ex and I have parted ways. What to do with this neglected diamond? Make it mine again!

Will be a pendant. And I've gotten an antique belcher chain.
Wow!!!