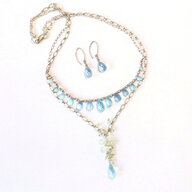 Joined

Sep 23, 2017
Messages

1,942
Ummm, you have permission to shoot me, but I would recommend giving up on the custom design. I'm not sure it's the right way for you to go.

If you pursue the custom, I do hope it works out for you.
Actually I agree, I think finding the off-the-shelf ring that looks closest to what you have in mind would yield the best result.
This coming from someone who has gone through the process of a custom setting and it didn't come out quite as I imagined. It rarely does. In my case I just chose to embrace the differences b/c I was ready to be done with the whole thing.
The Symphonie is another company's design and WF can't replicate it for you exactly. For example, lowering the prong settings as suggested above will squash the side profile, which is a key part of the Symphonie design...so it will look even further than your original inspiration if you lower it. What it seems like they tried to do was take the aspects you liked and incorporate them into an existing design. It actually looks nicer to me seeing it on your hand, not oval as in the original photos. But it won't be exactly the same unfortunately. They have so many beautiful settings available though, I have to think there is one that will make you happy.