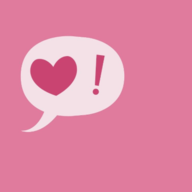 Joined

Jul 14, 2018
Messages

125
Hi folks,
A very sad story right after the Xmas.
I posted a list of diamonds from whiteflash here back in November, based on the cut, I decided to go with this 1.941 ct, G, superideal cut. However, the stone was gone in second right after I made my decision.
4 weeks later, the stone was magically back in stock again! Apparently, the guy who bought it has RETURNED it.
I was excited and concerned at the same time. I called whiteflash and spoke to the sales lady who helped me during my search. I asked her what's the reason for the return, she said "
the wife just didn't want a diamond."
That was such a relief for me, so I immediately wired transferred them
$24,200
for this diamond.
Today, we went to an independent GIA diamond appraiser. He is a G.I.A. Graduate Gemologist / Independent Jewelry Appraiser. We called a very large and reputable diamond retail store here to ask whether they do appraisal, the store doesn't do appraisal but they referred us to this guy.
Without telling the guy the grading on the certificate, he told me the color is between
H and I,
and he is more towards
I
. He said for insurance quote purpose, it can be graded as H; for purchase purpose, he think buyer should view it as I. He wrote
I
on his scratch paper before we asked for an official paperwork(fee for oral consultation $45 and official workpaper $135, that's why he just wrote on a scratch paper before we asked for an official copy) . We told him it's a
G on the certificate.
He asked another appraiser lady in the next office to look at it on her equipment again. She gave her answer "
H to I, and can be graded to H."
Finally we asked the guy to put his opinion in the official workpaper, then he said this can be a H. As such, he put H on the workpaper. I think he is concerned about putting a grade which is too different from the AGS report.
In terms of clarity, he thinks it's between VS1 and VS2 and he put VS1 on the workpaper. On the AGS report, it's a VS2. While I got a slightly better grading on the Clarity, but color is more important/valuable as long as it is eye-clean.
What a drama! This maybe the true reason why it was returned first time. Super shocked and disappointed now. I thought that AGS is more strict than GIA. There is always a price premium on these AGS diamonds. I paid for it since I think they are more reliable than GIA.
I dont even know what to do now..... I will talk to whiteflash.
However, there are not that many inventories on the market.....
This is the diamond I purchased:
https://www.whiteflash.com/loose-diamonds/round-cut-loose-diamond-4049800.htm
which says color as G.
Attached is the workpaper from the appraiser, which says color is H. ( while his first opinion was I)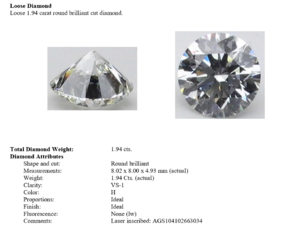 It was graded today without setting, a loose diamond.
Last edited: