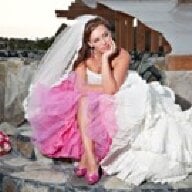 Joined

Oct 7, 2008
Messages

380
...and my patience has paid off! After a few months and a few frogs I have finally found my prince... to go with my REAL prince (my finacee
If anyone is interested here is the thread on the other cushions I looked at.
My Cushion search
So we ended up having our local B & M jeweler in S.F. look for cushions in our price range and he found us TWO fabulous ones! GOG had some beautiful stones and I LLOOOVEE how we were able to view them online next to other cushions but they were a little out of our pricerange for the size I wanted. We also tried to purchase online from another vendor and they were great and had great prices, however cushions were just too hard to shop for with them because they didn't have video or comparison pictures (only 8x or 10x close-ups).
The cushion that we didn't end up going with was about a thousand dollars more but was BEAUTIFUL, square shaped and had an 8 pavillion main! They are both baby diamonds that were just graded by GIA last month! If anyone is interested, the second one is also listed on
Blue Nile
and is gorgeous and chunky in person (also faced up beautifully white). Here is the link to that one.
1.60 I VS1 Cushion
We ended up going with mine because it had a little bit more of a cushiony shape and I really didn't want to go completely square. I was really torn though because I LOOOVED the chunky look of it!
Anyway, here are the specs of my cushion
GIA 1.72 laser inscripted
Cushion Brilliant
I VS2
7.19x6.81x4.65
Polish: Excellent
Symetry: Excellent
Culet: None
Flour: None
Table: 58%
Depth: 68.3%
slightly thick to very thick, faceted