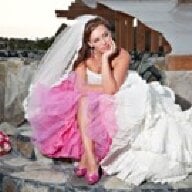 Joined

Oct 7, 2008
Messages

380
Hi PSers! I've been a lurker for quite some time now and have learned SO MUCH!!! I love this site! Here is the cushion cut stone we just purchased and should receive next week! Hopefully this one is a keeper
My Cushion Cut Diamond
Here are the specs:
Cushion Brilliant
1.71
Ideal Cut
I VS2
Depth: 69.5%
Table: 64.0%
Polish: Very Good
Symmetry: Good
Girdle: Medium to V Thick (Faceted)
Culet: None
Fluorescence: None ( I wish there was due to I color though)
Measurements: 7.39x6.63x4.61
Ratio: 1.11
We have been looking for a 1.5-2.0 carat cushion and our B&M jeweler looked up some in our price range and found a 1.75 G SI2 cushion. It so happened that the diamond he was describing was one that I had already saw specs on at
JA
, but there was no picture or GIA shown online. Our jeweler said it was a beautiful stone so we took a chance and ordered it from
JA
(thanks to Pricescope for the additional discount!). Well we got it on Thursday and it was gorgeous, however after looking through the loupe we saw an ugly black inclusion almost in the center of the stone

I don't mind some inclusions and knew I would have to sacrifice something to get the size and quality that I wanted but I knew I couldn't live with that particular crystal inclusion. It almost looked like a tiny piece of charcoal! When looking at the diamond to see if it was at least eye clean I could spot the tiny black spec and knew it had to go back. I am not too color sensitive (at least I don't think) so I am excited (and I have to admit a little anxious) to see the new stone in person! We had them pull three stones that I was debating between in our price range. Two were I color and one was H color. Between the three they said this one had the most brilliance and faced up white
So hopefully it will be the one I've been waiting for.
So, that's my long story. I'll post pics as soon as I get it and will tell you then if I am color sensitive or not