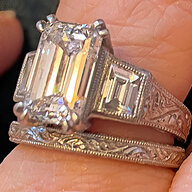 Joined

Apr 6, 2005
Messages

12,300
I posted my new ruby pendant yesterday but in order for that pendant to happen, I had to move the center diamond from my Calla ring setting. This left me with a gorgeous but empty setting. I couldn't leave it empty. What to put in it? I have pretty much every color imaginable except for black or dark charcoal. I wear a lot of black in the winter so I need one right? This set me off on a year long journey to find the right dark stone. I wanted something with life in it but no other color modifiers. Black diamonds and onyx were out, a center stone needs more life. I tried charcoal grey spinel but the only one I found with no modifiers had a huge window. No thank you! I tried grey moissanite which looked exactly like my charcoal spinels, lol. Blue or teal modifiers. I tried black moissanite which came looking like mystic topaz, ick. Damn why is it so hard to find a darkish, blackish stone with life to it? I could see it in my head, sigh. Finally I landed on a black star sapphire. Now this looked promising so once again I ordered up a stone and yes, this could work! But bummer, putting a cabochon into my Calla setting would be extremely difficult to do. It would be better off with a regular stone instead...........sigh. Once again, WHY is this so difficult? I was ready to call it quits.
After looking around my ring family one day I noticed that I happened to have a beautiful round pink sapphire in a setting I rarely wore and it was the right size to fit the Calla setting. Plus the setting it came from could accommodate the black star sapphire. Could it work? Could there finally be success? Oh joy, yes indeed. Finally after all this time I have what I could see in my head. Maybe that's a little scary, lol.
Here are before pictures of the two settings.