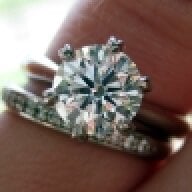 Joined

Mar 24, 2007
Messages

1,769
Ooof, that clamp is THE WORST!!

They used the saline for me because they weren't intending to check my tubes, just trying to find the source of my spotting/bleeding. Doc checked my tubes with dye during surgery, so I can't see any reason for another saline or HSG being done in the next couple years, even if we continue to have trouble. I'm SO very glad about that.
I'm 10-11dpo..didn't want to waste another FRER this morning (trying to save the next for 12-13dpo), I'm out of real Wondfos, so I used one of the expired fake wondfos I still have sitting around just to satisfy my itch to POAS. BFN, but for all I know these knock-off tests wouldn't show positive until 10wks.

I'm handling the BFNs better than I was before...staring at spotting day in and day out was NOT good for my sanity, and the BFNs just tended to push me over the edge. Now I'm back to good old wishful thinking/bargaining with the devil. Yay!