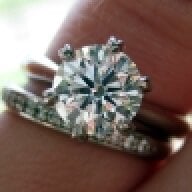 Joined

Mar 24, 2007
Messages

1,769
Laila619 said:

I went through the same thing back when I was dealing with infertility. I'm really sorry.

Maybe you could say something like, "Oh, that's such a personal question! I don't like to discuss my private life" or something like that. People are so inappropriate sometimes.
Thanks, Laila. I wish I could use this kind of line with these folks, but I think with my personality and general level of openness, I might as well just tell them since they'd be able to figure out the truth pretty quickly (that I was upset and deflecting). Me saying something was too personal, or I don't like to discuss my private life, would be akin to me saying I think the earth is flat. It just wouldn't sound right coming out of my mouth. This kind of line would be great for strangers, though!
Different question - for those of you who have dealt with this while working full time, how open have you been with your boss/co-workers about the reason you're having to repeatedly take time out of work for appointments/tests/procedures? So far I've managed to schedule things outside of my work hours or on days I won't be missed much, but depending on the route things take I can see it getting more difficult to keep under the radar. I think my boss would be understanding if I was vague about it (medical stuff...don't worry, I'm not dying), but he's also the type that would be genuinely concerned and wanting to help if he could. He'd also be sympathetic if I told him the truth, but I don't want a cloud hanging over everything with him wondering if/when I might get pregnant and need to take maternity leave.