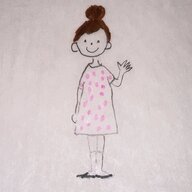 Joined

Feb 2, 2016
Messages

8,016
Coming back to share these pictures, I am having a pretty low day though. Since it's part of the journey story, I will share.
The short story is that this diamond has an inclusion which was significant enough that I wanted to get my jeweler's opinion on whether it affected the durability. I did not anticipate that he would call it a piece of junk and proceed to tell me he would never sell me something so awful. "I hope you didn't pay more than $500 for this" "what makes you think the stone is old, some kid in India made this". Those were the highlights but he went on and on while I stood in front of the woman working there. I was so embarrassed and humiliated I left and cried in the car. I've been bringing my jewelry to him for a while and didn't expect what I got today.
Here are the pictures, somehow I don't see what he sees but he really took the wind out of my sails.