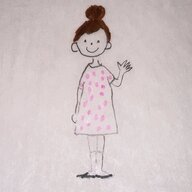 Joined

Feb 2, 2016
Messages

7,712
I see this often with super ideals since folks can trade up to larger sizes. Sorry this is so long but I think it explains some of my buying and selling. There is some method to the madness! Also, even though I could have just saved and bought a one carat, trying out the different cuts, different colors, and different styles was helpful, part of the learning experience.
As an example, I started with a 1.23 OEC with a 6.9mm diameter but I am OCD and the chips on the girdle gave me huge anxiety so I sold her: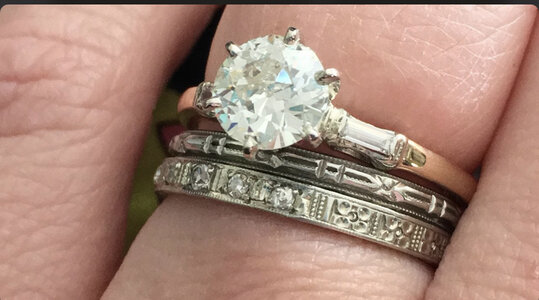 From some of the proceeds of that sale I bought a ring with a transitional to try that flavor, the center stone half a carat: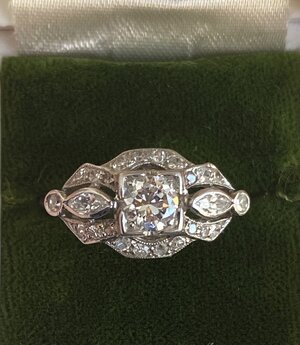 I discovered the finger coverage of the additional diamonds really worked but I really liked an OEC a bit more. Didn't immediately sell this one but then this ring popped up on Mercari. It was sold to me as a carat but ended up being 3/4 and it was an OEC but with a closed culet! So now I had the OEC again but still wasn't at one carat, still she was charming so eventually she got reset: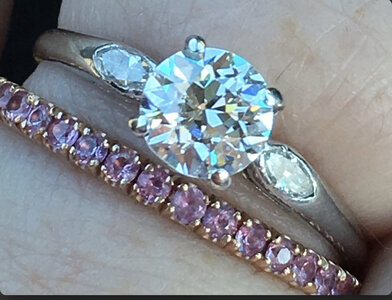 I was still poking around to see if I could get a one carat
OEC but it had to be a great price and I discovered I liked the finger coverage of some additional stones around it. Posted this in "Someone needs to buy" but nobody bought it. Made and offer and then I became the proud owner of a .85 OEC AND it had a lovely halo design around it with the finger coverage I wanted: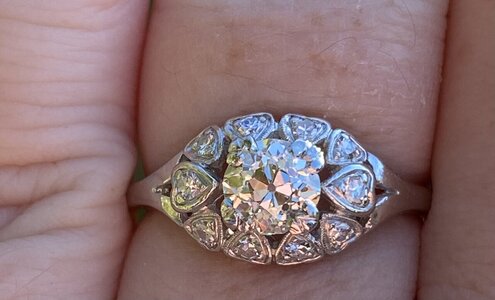 There was only one thing, couldn't really stack with this so for a combined anniversary/birthday gift I bought a 3/4 carat champagne color OEC, technically going backwards in size but filled a need for stacking and also got to try out the champagne color range.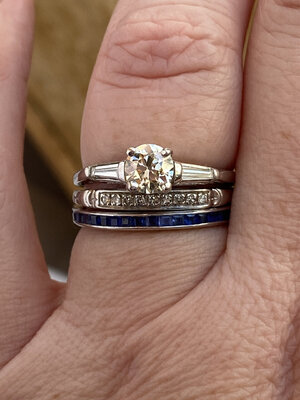 I discovered champagne worked for me. At this point, I sold the transitional knowing it didn't really scratch the itch and sold a bunch of other little rings and bands I acquired along the way. Can I find a one carat champagne? Yes! However it was a brilliant cut and a total dog so back it went.
However there was a ring I had favorited and forgot about. A 1.10 champagne OEC, the diameter 6.5mm, yes this one is bottom heavy, I can relate
Per the seller she is a champagne/light cinnamon color, she has a halo of diamonds so a little extra finger coverage. If she ends up a winner then I will be at a carat in an OEC! These are the seller's pictures: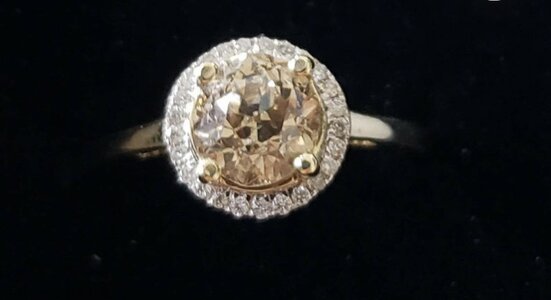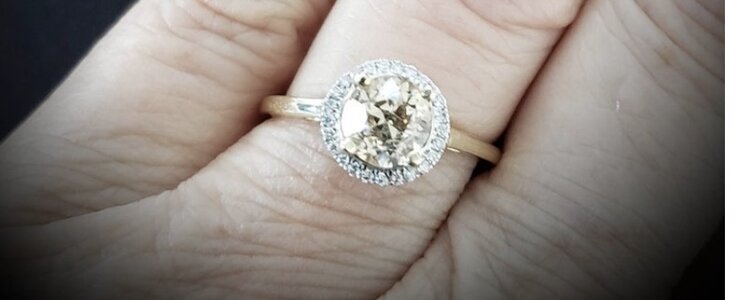 I was playing around on Brilliant Earth to see what the difference in finger coverage might look like between the 3/4 carat OEC and the 1.10:
Current: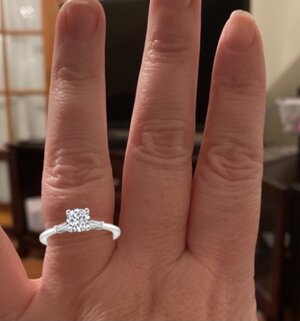 Potential: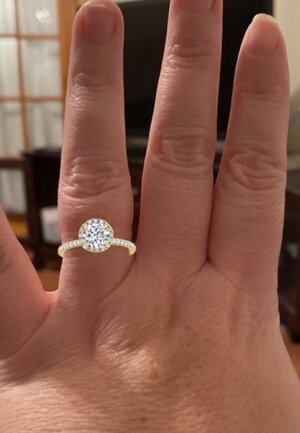 I probably will keep playing the trade up game but accomplishing the goal of getting a one carat old cut (using only the funds from selling already acquired bling) is pretty satisfying.