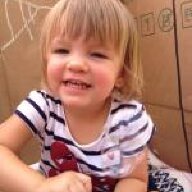 Joined

Aug 15, 2008
Messages

1,115
Hey everyone,
I thought I would jump back into this thread and not only see where everyone is at, but also update our status. First off...
Gypsy - OMG, I don't think I could have convinced myself to declutter like this had it not been for the sale. We did some SERIOUS cleaning in order to stage the place well! But, it sounds like you have other fun stuff going on at your place, so that should keep you busy anyway.
Elrohwen - So, how did that drama with the house go? Did you guys finally get them down to where you wanted, or have you moved onto greener pastures? I hope the search is going well!
Charbie - Well, after much research, etc, I can only say this market is REALLY goofy. Things in our building are either on the market for 2-3 weeks or 6 months, so its just completely random. We are hoping we will be one of the lucky ones, but I guess time will tell. So how are things going with the building, have they broken ground yet or are you still waiting for permitting? Everything sounds so exciting with getting pick all your finishes and make the place your own. Congrats again! How about the renters, everything good there? Did they sign for 2 years?
Chemgirl - How is the house hunting going? Did you decide if you were going to go the townhome route? Hopefully the search is giving you lots of options!
Thing2of2 - How are things going with your home sale? Did any of those pontential buyers make an offer or are you still hunting for that perfect buyer? I really hope that your house already has an offer on it and you are just waiting for a closing.
****
AFM - My DH and I finally completed weeks worth of cleaning and staging, in addition to the installation of some very nice Brazilian cherry, engineered hardwood floors, and are very happy with how the place looks
. We got it up on the market last week and had our first open house yesterday. We had 5 groups come through 2 of which were quality, so we'll see if that nets anything. I know we are super early in the process but I hope we get lucky! As far as after this place, we are thinking to rent in the same neighborhood we want to build in, so the transition will be super easy once a house is completed. We can also build back up some of the money for a downpayment, since renting a house down there is about half as much as our mortgage and condo fees. We are really hoping that we can sell the place before we need to move (before June, due to the baby), but I guess time will tell. In the meantime, please cross your fingers for us!
I hope everyone else is having luck in the buying/selling process!