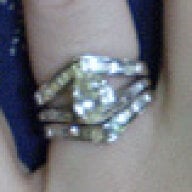 Joined

Feb 17, 2008
Messages

1,166
I know there are quite a few PS''ers in the midst of the house-buying experience (including myself), so I figured I''d start a thread

How long have you been on the hunt?
What are your must/must not haves?
How many homes have you looked at?
Have you put in any offers?
Is the Obama tax credit putting you under the crunch? It is for us, knowing that we have to settle before the Nov 30th deadline!
DH & I started casually looking in June. Checked out some houses, got the pre-approval, found a realtor, etc. We put in an offer on a house, which got accepted, but the inspection came back with some unknown issues... termites AND foundation problems. We tried to lower the offer, but the sellers weren''t having it. We had originally offered 30K lower than the asking price, though... that house was a major fixer-upper to begin with. It was pretty heartbreaking at the time, losing that house, but now I''m glad. That house was a money pit, anyway!
We''ve really only done walk-throughs of about 10 houses. I''m looking pretty close to where we live now, so we''ve done a bunch of drive-bys too.
DH is going to school full-time this semester, so that has been a huge point - we need to find a house that we can afford on my paycheck alone. We have a set amt of $ that we feel comfortable with, as a mortgage payment. And boy, has this been daunting. The housing prices in our favorite neighborhood are about 20K to 30K over what we want to spend, and I know that''s not much, spread out over 30 years, but we want to be at or under our magic number, yanno? It''ll be tough for 2-3 years, while DH is in school full time, but it''ll be worth it in the end!
Must haves:
3-4 bedrooms
Twin or better... we''re looking in Philadelphia, and we''ve both lived in rowhomes our whole lives
a basement that''s either finished or finishable
garage
within a decent driving distance to I95 - I don''t want my commute to work more than 50 minutes or so
Must not haves:
ROWHOMES
Philly can be weird, too. One neighborhood is pretty nice, but then five minutes in another direction could have you in the badlands

We have a list of desireable neighborhoods that we''re looking at, and we haven''t strayed from it.
So we found a house, and put an offer in yesterday- it''s easier the second time around! We''re supposed to hear back by Sunday. It''s priced really well, and it''s in our favorite neighborhood. It needs some cosmetic stuff, which is no big deal to us. Wallpaper galore, but in really good shape. And we''d be neighbors with a couple who we''ve been good friends with for 10 + years. This house has all the "must haves", plus an extra half bath. Fingers crossed! I''m super nervous, though. The last house that went up for sale on that block was only up for 4 days before it was sold - this house went up 7 days ago, and we''re the first offer. I have my friends spying on it for me, to gauge how much traffic it''s getting. Last night, as we were putting our offer in, two couples came to look at it. We offered full asking price, but with some seller''s assist, so we''ll see.
Let''s hear your experiences! Anyone else having trouble finding *the* one? I thought it was supposed to be a buyers'' market?? We''ve been looking for 3 months now, and Nov 30th is just around the corner, it seems!