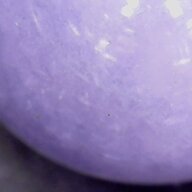 Joined

Sep 20, 2009
Messages

3,293
I wanted to begin a thread to serve as a caution and celebration of jades (both jadeite and nephrite). It was a rocky start a few months ago. As an absolute novice, I bought some "jade" online from various (and nefarious) places. I think I collected "Grade A" glass, quartzite and maybe a jade, but it was so bleached and processed I can't tell. I learned to test for Specific Gravity and these three imposters weren't even close. That was a collective 300.00 lesson in jade. I hope you (if you are just starting out too) will let me serve as a caution. I don't mind wearing a dunce cap if it saves you the pain.
I then jumped onto a jade thread (or two) for help, and am very thankful for input. A little late in the game realized I should have moved off the thread sooner. My beginner mistakes were embarrassing on a thread full of wonderful jadeite jewelry of a very fine caliber. I was like a bad tourist
Sorry ladies and gentlemen. I appreciate your graciousness.
Happily, in this period of time, I also bought a couple of modest pieces from The Jade Mine online and was happy to see that the Canadian Nephrite jade was exactly as advertised. I read it before, but now firmly believe it - new buyers need to stay with safe/proven sellers.
Meanwhile, I was directed to a couple of jade groups on facebook to learn more. Mostly they are miner's groups in BC Canada and Western USA, but it has been an education. I learned carving jade is demanding work. I have also purchased a couple of books on Jade. I even bought one from Google Books that is translated from "A collection of detailed knowledge and skills on the identification, evaluation and gambling of jade raw stones. The book is about 300,000 words, and can be regarded as an encyclopedia on the evaluation of jade raw materials(赌石)." the translation is poor is not close enough to understand.
I am also interested in jadeite from Myanmar. Talk about a fish out of water. Also, trying to figure jade out obviously makes me think about the strong cultural lines that are woven into jade. Is loving jadeite jade in any way cultural appropriation? I figure I am okay in a bangle but I am shy to wear jewelry with obvious cultural references I do not understand. Another mistake waiting to happen
Still, I find them very beautiful and artistic and enjoy looking at them.
Just some thoughts - more later. Learning about jade has been very humbling so far.
Last edited: