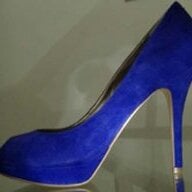 Joined

Dec 14, 2007
Messages

19,456
Date: 4/5/2009 10:20:10 AM
Author: SailorsSweet<3
Freke I read through your post and I can see where youre coming from. I''m not even a year old here so my perception of the LIW forum is much greener than yours. I wasnt complaining so much about the lack of a completely supportive environment - in fact I stay away from most posts here that involve relationship trauma and ''is he, will he, why wont he'' because most of the time I feel even my honest opinion of the post would go in one ear and out the other. I probably would enjoy the posts more and read through more threads if I knew honest opinions were going to be more along the lines of reality or atleast what I was thinking in my head as a response. Im sure you think of me as one of the young posters and not a large contributor to anything significant but I still appreciate the forum regardless of how much I post or how immature some of my posts may be. I was more annoyed with the things that sammy pointed out for the most part. Sarcastic, snarky posts that have no relation to LIW other than to belittle the term and all the posters here as a whole. Perhaps those posters were doing it simply to get a rise out of us and AGAIN I look green and immature for biting at the bait but its just obnoxious I feel.

I do not have a large number of older adults in my life to go to for advice and I more than welcome comments from women AND men who''ve been there and done that and can say ''hey, are you reading what youre writing here?''. And although the forum may be whiney and superficial at this point compared to what it was a couple years ago I assume that it goes through phases and will eventually come back around to a more laid back place once a few more posters who arent anxious or questioning their engagement appear.

The bottom line is I''m not an 8 year old idiot, I can obviously read, and the sarcasm and mockery arent that hard to pick up on - even in text - especially with smilies attached. Thats obviously the intention of these posts the past month or so and it hurts to see that unprovoked intention surface.
What is up with the assumptions?! I personally haven''t said anything about thinking how "immature" of a poster you are, or an eight year old idiot, and I certainly haven''t said anything about anyone being whiny, or belittling anyone. At least as far as I''ve read and evaluated what I''ve wrote. Have my words been taken in some other manner? I really would like to know.
I don''t know what happened last month, I lurk around here relatively often compared to say, "Family and Home", but I still don''t get everything. So I have no idea what''s going on there. I''ve been around more because of waiting for Gwen''s engagement, but other than that I''ve been sticking to BWW and CS.
The LIW forum seems to be cyclical.
It seems to go:
LIW rule the roost, get defensive when other posters "invade"
Chaos ensues for a while
Balance of reality and hopefulness occurs
Other posters fade out and stop with the reality posts
LIW rule again
So on and so forth.
Now it wasn''t that long since I was where you guys are now. I know that anxiety and I know what it''s like just wanting him to propose already. What sucks is that sometimes the LIW seem to forget that other people have also been there, and even though they aren''t going through it anymore, they may have insight that could prove helpful. Perhaps it''s the way that it''s presented, or perhaps just giving it in general can be offensive to some, but a lot of the time it kind of sucks to post what you think, and then have it thrown in your face. I can give advice all day long about how to do something with cupcakes (and I have) but when someone comes back later, hasn''t taken the advice that took me an hour to type up, or even taken it into consideration, that kind of sucks. Yeah, that''s a less serious situation than the future of a relationship, but it''s still the same kind of situation for the poster giving advice. But you''ve gotta go with the flow I suppose. Anyway, my point there is I think that some people (and this is all over the forum, not just in LIW) will just neglect the advice given, do whatever they were doing/going to do anyway, perhaps sometimes even bash the person giving the advice, and that sets a nasty precedent for that thinking about giving advice some other time. (Been there, done the bashing.)
Now I''m only speaking for myself here, but I don''t type out multiple sentences for my health. I do it hoping that the person I''m *talking* to will at least take one or two points into consideration and think about them.
Having said that I like to goof off and have been known to be snarky on occasion, but often I really am hoping that the person I''m talking to thinks about what I''ve said. It''s hard to keep giving advice to people who reject it all of the time, and only the most stalwart of posters seem to keep plugging away at it. I have to give them credit. But this is often what happens in the LIW board. One LIW gets upset, posts a vent, people from all over post their opinions, but when someone says, "Oh I think he''s an idiot and you''re an idiot for staying with him", now while it may be true, the rest of the LIW and the OP get up in arms and defensive. Which is sometimes warranted, but sometimes it isn''t. Most of the time it''s the brutally honest people who will come out and say these things, and they can put them in less than stellar language, and that REALLY sets people off.
So I can see why it happens. Sometimes the LIW are right. Sometimes the brutally honest poster is right. Sometimes they are both right, and because of phrasing, they can''t see that they are saying the same thing. It''s very tiring to watch sometimes.
I think that the LIW board is the only one that is running at a high level of emotion all of the time. BWW is filled with planners and people bouncing ideas off of each other. Rocky talky is filling with people trying to find the best prices, SMTR has everyone showing off their bling, CS is a bit of both RT and SMTR, etc etc. Sometimes stuff in Family can get more emotional, like when a baby is born, or someone is separating/divorcing/going through other family issues, but nowhere else on PS are emotions running as high as they are in LIW.
I''m going to stop now because I feel like I''m running at the mouth.