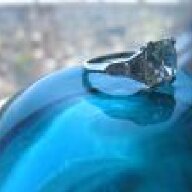 Joined

May 31, 2011
Messages

163
Hi All!
I already own (and love, love, love) this stone, but I was hoping to learn a little more about its light performance from the aset. I cropped the logo out of the image, but I'm sure you can tell that it is a
GOG
AVC. I've noticed that a lot of the newer AVCs have asets with a lot more saturated red and was wondering whether the blue/green in my aset indicated diminished light performance in those areas?
FYI: This inquiry is purely for curiosity's sake. I am quite happy with my little fireball, but always like to learn more about it.