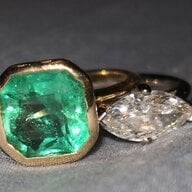 Joined

Oct 30, 2018
Messages

116
Hi everyone,
I would like some advice on whether or not my purchase was worth it. If anyone follows JR Columbian Emeralds you have probably seen this emerald on their instagram. Being the emerald fanatic that I am, I fell in love with it and being cursed with instant gratification, I bought it. And I love it...well, some parts of it.
I love the color of the emerald and I love the size, it is a 2.77ct (moderate oil) that is a HONKER on my size 4 finger. I love how it looks on my finger. I took a couple of glamour shots of it in the light and it is very beautiful and clean. Did I mention how big it is?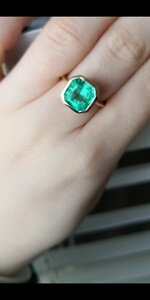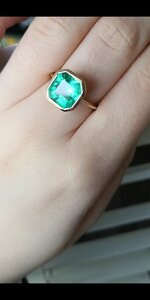 But when I take it off, the emerald makes me go "AHH! That window!"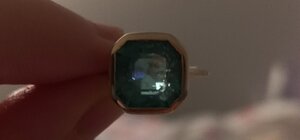 Now I know very well about how a lot of PSers feel about windows. For me though, if the price is right and it looks good on my hand, I don't mind it as much. But that's where my dilemma comes in...is the price right?? I feel like I may have gotten a decent deal on it but whenever I see the window I am a bit unsure. It is $3500 total.
I am very torn on this ring, and would appreciate any advice. I feel a little self conscious about posting because I know many people here hate the window, and i do too if it's very obvious on the hand, but..it's not. I wouldn't say I wouldn't notice a window at all, but it doesn't distract me from the beauty of the stone.
I have another week or so to return the whole thing, and I would kind of miss it if it's gone, but maybe I can get a much better one at this size and price?
Thanks in advance for your input