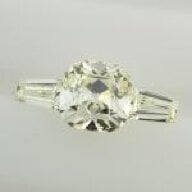 Joined

Oct 16, 2008
Messages

149
Hi!
Ok, I''m a bit of a newbie here but have been lurking for a while.
When I was trying to figure out what size stone to upgrade to I found lots of helpful threads with pictures but still found it really hard to get a feel for the size on my own hand - especially since I was upgrading and wanted to get a feel for how the new size would compare to my existing diamond.
If everyone has already figrued this out I''m going to feel like a right plonker but I found something really helpful and thought I''d share it - did people know you can use Microsoft Word to draw specific size shapes (e.g. circles) and set the size to within 0.1mm? I found this a HUGE help as I could draw out my existing stone size (a deep 0.64ct so 5.5mm x 5.5mm) and then draw a 0.8ct (6mm) and a 0.9ct(6.2mm) shape to compare.
I''m working off the 2008 version so apologies if this doesn''t work in the older version but if you go to ''inset'' and then ''shapes'', draw any old squiffy circle then right click on it and go to ''format auto shape'', then the ''size'' tab, you can type in the dimensions you want to the closest 0.1mm (eg 5.9mm, 6.0mm, 6.1mm etc).
If you want to be really sad (like me!) you can then cut these out, stick them on clear tape and position them on your finger (yes, best to do this in private!).
Clearly this is no substitute for trying on real rings becuase the real diamond always seems to look a bit bigger than it''s paper version but from a comparison standpoint I found it REALLY useful.
Just my 2p worth!
p.s. Do watch out though, I think my colleagues thought I was going nuts as I ended up with sheets of paper with nothing but circles on them lying around my desk together with yet more circles stuck to sticky tape