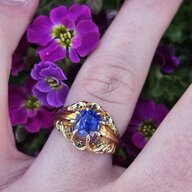 Joined

Apr 13, 2018
Messages

1,829
Hey Everyone!

Long time, no talk! I've been a bad bad girl & have been collecting
so
many stones & seeing projects come to fruition
without
posting them on PS. I have quite a lot to catch you up on as far as jewels go, alas they will all come in their time & once real life settles the heck down! *Swears at the sky about continuing pandemic*
I know, I know, I've sinned! I've just gotten so lazy about keeping up with posting here as my collection keeps getting larger and my taste in jewelry/gems
has and continues
to morph into something more than I could have ever imagined.
Anyways, I couldn't keep you all from todays purchase, which was somehow oddly my first legitimate purchase from Yvonne when it comes to her finished jewelry?
So weird!
I've purchased quite a few gems and melee from her but I was surprised to realize that I had never purchased jewelry from her yet! So today was the time to change that. She had her annual 20% off select items for Mother's day & it came down to trying to decide between these two pairs of studs...
& If I've learned anything on PS it's that if it won't break the bank at all and I cannot imagine losing out on the piece, that I had better jump on it and jumped on both pairs I did

The first earrings feature a pair of round 4.2mm Rhodochrosites from the Sweet Home Mine in Colorado (Of which I've always wanted a piece of jewelry with sweet home mine rhodos!) It's hard to find fine jewelry made with rhodochrosite, let alone higher quality rhodos as I can be picky about mine, so it was an unexpected find that made me super giddy!
They both have nice clarity and are set in simple protective 14k yellow gold studs with four claw-prongs. The pair is a warm pinky peach color & I think they will look gorgeous on!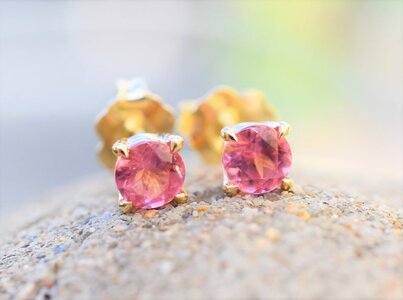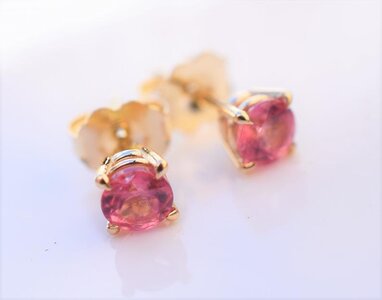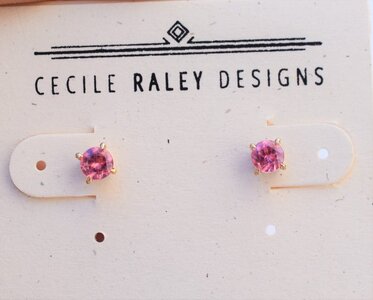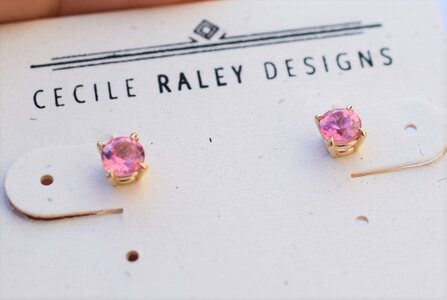 The second pair of studs that I bought are slightly larger & such a pleasing shape at 4x5mm and total approx 1ct together: a pair of precision-cut pink Burmese spinels cut into elongated cushions and also set in 14k yellow gold with four claw-prongs.
These were the studs that I saw she had posted on IG to promote the sale & that originally drew me in! I was shocked to see that they hadn't sold yet!
These are so pleasing to the eye and I just couldn't resist them!
They remind me of lilac bubble gum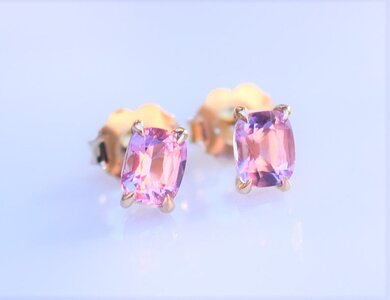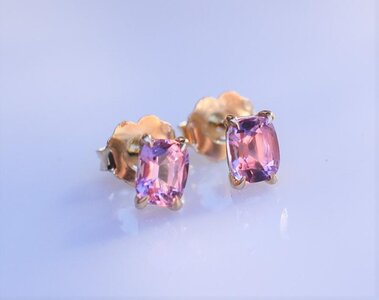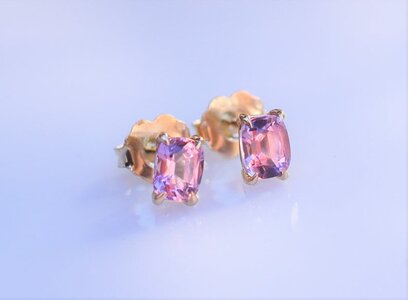 I love both dangle earrings & studs but studs seem to prove more practical in my day to day life. I've also found that I prefer my studs to be on the smaller side as my ears seem to be small as well and look best with studs that stay under 5/6mm in diameter.
Both make me so happy & I cannot wait to see them in person! If they don't look too gaudy together I'd love to even wear them together with the larger lilac spinels in my first hole & the peachy rhodochrosites in my second. I think somehow both colors work well together!
Will update with new pictures once I receive them!
Feel free to post your purchases as well if anybody else purchased anything from her sale!