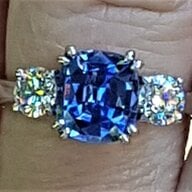 Joined

Apr 5, 2012
Messages

987
There was a very long and winding route to acquiring this asscher
I first discovered asschers a few years ago when I came across a stunning antique ring in a jewellery shop window. The diamond had intriguing steps and large clipped corners, and even though it was way out of budget and I was not in the market for a diamond ring at the time, I had to go into the store and find out all about it. This was beginning of my longing to find a beautiful asscher of my own, but at the time I had no idea about all of the factors that contribute to making a beautiful example of an asscher diamond.
Over the years I have not missed the opportunity to look in every jewellery shop window I passed, anywhere I went, in the hope of seeing more examples of asscher diamonds. My lovely long-suffering husband has accepted that jewellery window shopping will be a built-in element of days out and holidays annd he has even become quite the expert in what to look for, after listening to me banging on for hours about it all.

But they are not a particularly common site here in the UK, and especially not in sizes large enough to appreciate all the details of the geometric patterns. Various threads on PS, along with online diamond vendor sites and IG have fuelled the obsession over the years.
I chose a round brilliant for my enagement ring because I wanted the classic sparkle for my everyday ring, and I have never regretted this decision. But a part of me has always been on the look out for a right hand ring asscher which ticks all my boxes and scratches the itch. It has been sooooo difficult finding exactly the right stone which is bright under the table as well as through the crown facets, has evenly spaced well defined steps that flash on and off, loads of fire, large clipped corners creating beautiful windmills which light up as much as the other facets. I wanted a white-facing stone which would also face up a good size for the carat weight, and be large enough for me to appreciate the beautiful step patterning. I also wanted a diamond that could hold its own against some of my other diamond rings without looking too "quiet"
I had a few near misses, and ended up ordering and returning a couple of "almost perfect" examples, until I found my 1.59ct H VVS1 on
Bluenile
.
Here are the specs:
Length/Width Ratio 1.00
Depth % 66.3%
Table % 61.0%
Polish Excellent
Symmetry Excellent
Girdle Medium to Slightly Thick
Culet None
Measurements 6.55 x 6.52 x 4.32 mm
I loved the video so much that I ordered the diamond without seeing an ASET image, and was very pleasantly surprised when I viewed it with my own ASET scope at home. Here it is loose: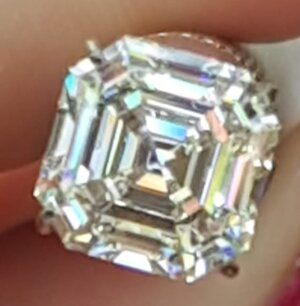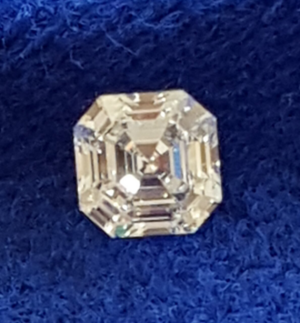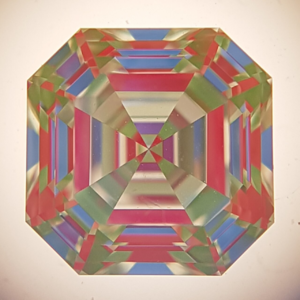 Here is a previous thread with more photos/ video of the loose diamond:
1) They come in all styles and sizes and it takes time to find the right one 2) You can't choose them by the numbers alone 2) You may swipe left on the vast majority you see 3) You may swipe right on a few, only discover below-par performance 3) Sometimes the right one turns up when you least...
There was a lot of agonising over the design for the ring setting, but I eventually decided that I wanted to stick with something fairly simple with step cut side stones that would be easy to clean in a powerful ultrasonic without worrying about little diamonds coming loose. Asschers definitely need to be clean to get the maximum wow factor.
Anyway, here is the finished ring with 0.33cts tapered baguettes: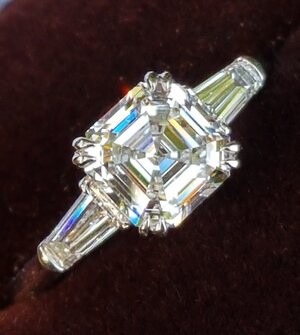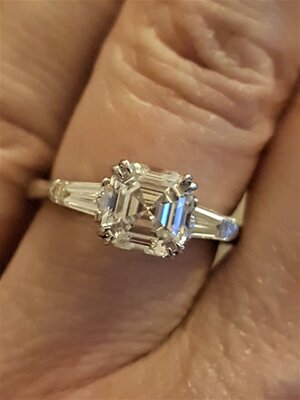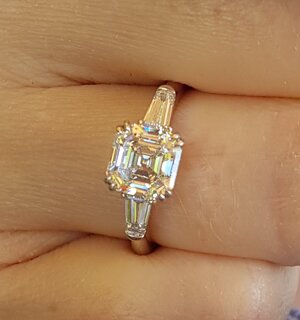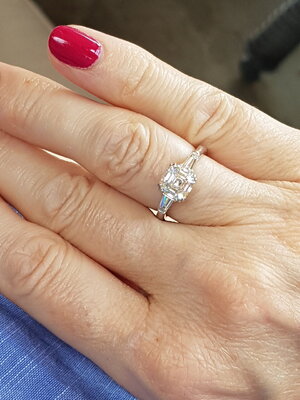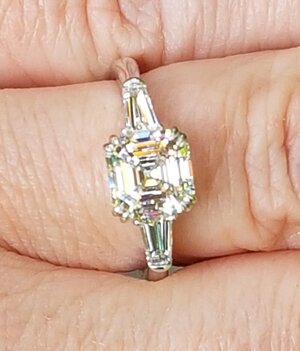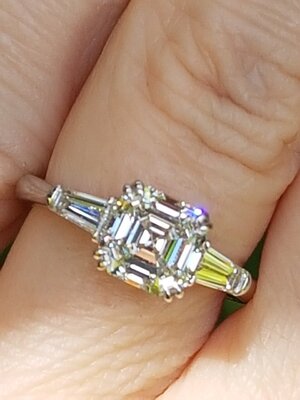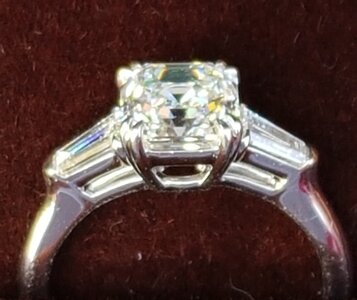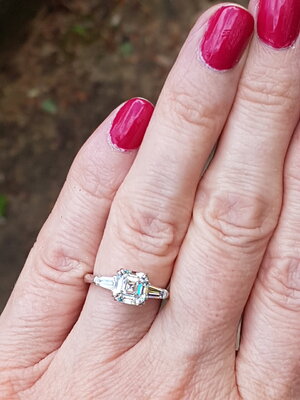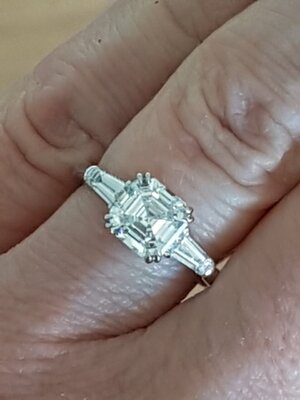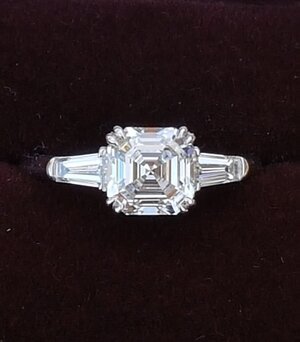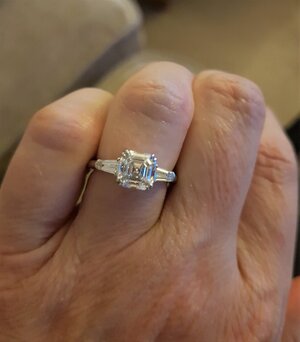 Last edited: