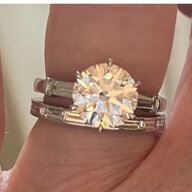 Joined

Mar 31, 2018
Messages

7,240
Your new name suits you! And honestly I could recognize your gorgeous taste. Do you know the width of your Embrace band? I think when I tried them on there was a 2.2mm and a 3mm.
Thank you
@OdetteOdile
..I'm sorry I don't know what the width is..I have the papers in Pa. I think it's 3mm but I'm not positive. I think someone asked me a while ago before Covid. I remember looking up the size of the diamonds. I'll see if I can do a search and find it.
Edited to say it's 3mm. I just found my post. It was originally diamonds and sapphires but the sapphires kept chipping. I had the sapphires replaced with diamonds.