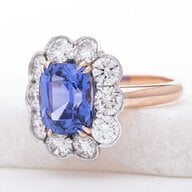 Joined

Jan 9, 2006
Messages

6,563
Ohmygoshohmygoshohmygosh!! I am rather excited. If there is a PS penalty for overuse of exclamation marks, I'm done. I will preface to say that I do not have these yet, but the lovely Krystal from
Whiteflash
was kind enough to send me glamour shots.
OK, onto the long, convoluted story...
I sold my 1.00ctw diamond studs a while ago. As much as I liked them, the tint did start to bother me (J-K, very pretty but not especially well cut), and have since been saving up some dosh for a new pair. I wavered between ideal cuts/OECs/uncertified stones, and was pretty set on OECs but was very nervous about trying to find a well matched pair (mind clean is an issue for me!).
I recently upgraded the diamonds in my engagement ring to stunning
BGD
Signature stones, and decided that H&A studs were definitely the go for me. I was hoping for something no smaller than the ones I sold (.50ct each, but cut deep, about 4.8mm a pop), preferably over 5mm, and in the eyeclean I-J range, like my
BGD
stones. My dream size was about the 5.5mm range, but realistically I wasn't expecting to find anything within a bull's roar of that with my budget, and didn't really want to start smaller and upgrade for the sake of a few tenths of a millimeter.
Well! That was until I snuck a peek at
Whiteflash
's site! I'd been perusing various vendor's sites in case the perfect stone came up, and was happy to wait it out to find a friend for it. Just before I headed to bed one night I thought I'd have a quick squizz at
WF
's inventory, and found a super ideal J, SI1 at 5.3mm, for well under what I'd expected to pay for one stone. I couldn't let that one go, so I jumped onto the live chat (it was nearly 1am here is Aus, so there was someone available!) and 'met' the very fabulous Traci. I asked about that diamond, and as she checked it out it appeared to have sold. WAH. I thought that was the end of it, but she inspected things a bit further, and as it turns out, it hadn't! YEAH! My grand plan was to buy that stone and wait on a match, but the ever wonderful Traci found me a match, literally within minutes - a super ideal I, VS2, 5.32mm.
So before I knew it, I'd placed an order for two magnificent diamonds, far exceeding my hopes in terms of size, in my dream setting, UNDER BUDGET! I'm so thrilled!! Woot woot!!
Traci, Vera and the team at
Whiteflash
, you rock!!! I cannot wait to get these in my hot little... ears!