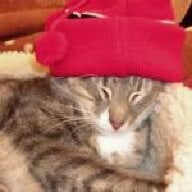 Joined

Aug 14, 2009
Messages

22,064
Yes me want!! I would love to try on a long necklace. I think the fact that it touches clothing might be what gets me. I don't really know. We are all an idiosyncratic bunch and I love us all. Anyhoo, my coffee and sugar sister, I would love to try on this gorgeous necklace and I will bring some jewels for you!

Enjoy many date nights and feeling beautiful in this gorgeous necklace!
Touches clothing. Hmm. I get that. I have some bracelets that I really don't like to wear with long-sleeved shirts - especially sweaters with loose knits. We'll find out one of these days!!




@Begonia Thank you!


So that dress.

Once upon a time there was this clothing store called Caché. I wasn't allowed to shop there - the one time my mother and I went together, because that was where all the other girls in high school were buying their sophomore welcome dresses, she marched me out within the minute saying that she had more than enough money to buy me clothing that wasn't made of vinyl and filled with holes. In her defense most everything did have cutouts in strategically unfortunate places - and I wouldn't want my teen wearing most of what I pranced around in either.

But then-me was determined that my dress would come from the same place as everyone else's. I was too young to drive so my friends took me on a detour before field hockey practice, and I made the fastest clothing decision of my life ("can wear bra" and "can bend over" really narrowed my options), and then we stopped by Old Navy and I bought a random T shirt for the bag and hanger and yellow sale tag and switched packaging before my dad picked me up.

Turns out I made an unexpectedly awesome choice. Even my mum thought it "wasn't terrible". And I've worn it so many times in the decades (ugh) since. Maybe one day I'll tell her. Probably not. She'd probably remember, and she'd definitely still scold me even if she didn't




@nala, @caf, @ac117 Thank you!!



Thank you @Cerulean!! And I'd be totally flattered if you did!!
Last edited: