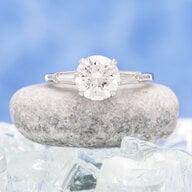 Joined

Jun 15, 2015
Messages

3,441
I'm shopping around, and dreaming about diamonds. Wondering which size RBC would look good on my 4.5 finger (probably 1-2ct!!). I'm also enjoying all the photos of nice big rocks on PS!

But in my part of Canada, in my social circles, NOBODY has more than 1ct, and most people have between 0.15-0.65 size diamonds in their ring. We all know that size doesn't matter, it's how you use it

. And I love all rings, big and small. That being said - I am dreaming of a nice big bauble! Especially since I know how to get a good price on one (thanks to PSers!

).
But even if I tracked down a good price on a lovely 1-2ct, I know I'd never wear it. Or rarely wear it. Why? Not wanting my peers to feel weird, or people to judge me, or people to want to rob me! I worry about the story a big diamond tells, and whether or not that fits with who I am and how I see myself. And then, the other side of me says, screw what people think, if I like it I'll wear it!
I'm hoping to start a discussion:
In your social circles, what is the average diamond size? (Add your geographical location if you want.)
What size diamond would you feel weird about wearing in your daily life? Why?
Have you run into examples of this already?
Thanks!