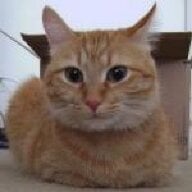 Joined

Aug 17, 2008
Messages

92
Hi all,

This thread has been very interesting to read, because I am allergic to cats but in love with them. I have been getting allergy shots since December in an attempt to reduce or eliminate my reaction, plus I visited a Siberian cattery last fall. The breeder brought a cat out to my car and I petted it for a while and had no reaction, so then I tried going into the house (where she had many more cats living) and of course started sneezing.

After this experience, I had an appointment with an allergist, and I asked him point-blank, is it worth spending more money on a cat that''s supposed to have lower levels of allergens? and he said no, if you''ve had trouble with cats in the past then you''ll have trouble with cats in the future. (This was all before I started getting shots.) So this was very disappointing, and I wonder how people can say they have less of a reaction to these cats and yet a professional will not acknowledge this possibility.

If there is some truth to Siberians being less of a problem, then maybe getting shots AND a Siberian would be best for me, but I can only spend so much money on pet-related expenses (since both my husband and I are students right now). I am hoping to have some sort of follow-up appointment since it has been a few months since I started the shots, and then I can ask about getting a normal cat and possibly go from there. Anyway, I''d appreciate hearing your thoughts on this. My hope is that with enough shots/time, I will be able to withstand owning a regular cat from a shelter.