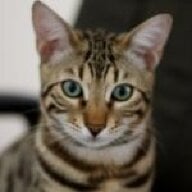 Joined

Jun 4, 2008
Messages

6,893
I''m looking at at least $800 for one kitten!

And that does not include transportation or shipping costs - I can find only one breeder for Siberians in my area and they''re still over 4 hours away, and I don''t have a car.
Does $800 seem excessive for one animal?
Would you pay it? I''ll have the money - this will be this fall (let''s not talk about waiting lists!) but still, I''m in sticker shock, I think (when we got our Chihuahua, we went with a private, first-time breeder and paid only $250).
I wish rescues were an option, but I''m fairly allergic to cats and I''m looking specifically for breeds that produce lower levels of the allergen in their saliva. That puts mixes and shelter kitties out

(I''m still getting an allergy skin test in a few weeks before committing to anything though)