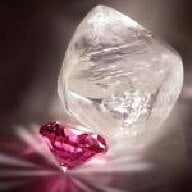 Joined

Jun 6, 2011
Messages

995
it is in my pocket now. The 0.53ct round was picked up. (on my iPhone now so can't link to the photos easily.

I just realized why photographing FCDs is impossible... Looking at them results in so many variations too.

The bad news is... I'm not sure if I chose correctly. I was drawn most to the round, but more for it's brilliance and sparkle. The asscher is gorgeous but in some lights looks a teeny bit peachy. The old mine cut though was truly amazingly beautiful. I would have picked it for sure except that it is a bit small for Ering purposes.

So ultimately I may have been incredibly stupid. As I bought an FCD not based solely on colour, but on function as well.

I'm still trying to come to terms with whether I made the right choice. Sigh. just wanted to share. Lost.