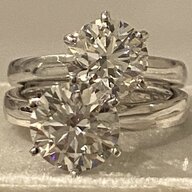 Joined

Nov 2, 2003
Messages

1,635
Hello, PSers!
Enlighten me, friends... this whole diamond thing is so baffling to me!
My new stone is very deep... 63%.
It is also a GIA 3x (you know where this conversation is going!!!).
I understand that there is much agreement that the GIA 3x is just not yielding great stones.
That, in and of itself, is a bit disappointing, as in how what is supposed to be the industry "standard" with its strict and consistent color and clarity grading could be falling so short with the cut category.
I read on PS that GIA seems to have a trend going with "awarding" the 3x to a lot of 63% depth stones. I've come across a few myself just randomly perusing some of my favorite sites (also with 55% tables as mine has).
So here's the interesting part (above and beyond all the above!): My diamond scores a 1.7 on the HCA!
After the DOG that my former EGL Israel stone was that had a horrific HCA, you can imagine how thrilled I was to get a 1.7 HCA, all excellent for light return, fire, and scintillation (only got a "good" for spread, obviously due to the depth... but spread was not my concern... I already had a huge diamond before 3.29 ct and this diamond was not about size... and it is still a 2 carat so not too shabby for size).
This is now my diamond and so it is what it is... I am going to love it and live with it. I was a bit restricted from the get go because I had to fund my new stone by using my previous toward the purchase price, so there was no way I could go with some of the PS highly referred online vendors, as I had to go with my jeweler for whom I've been a client for over a decade who is a GIA GG and also an AGS jeweler that would work with me on a trade. (Actually, he suggested I try a recut of my old stone which I did but it still wasn't what I wanted... the color was too warm for me at this point in my life and I really felt uncomfortable with the over 3 carat diamond).
I could've got another 3x with a "crisper" cut that was a G color but because I previously had an I color and had become very color sensitive and was very motivated toward colorless this time, color was a high priority and my new stone is an E which I feel is very special. Sadly, I would've thought a GIA 3x would assure me some level of reliable standard.
So I'm digressing as I see it's been made abundantly clear that GIA cut grading has been a disappointment and apparently continues to do so. My main point in reaching out to all of you who have a good grasp on this is how could my 63% depth yield a 1.7 HCA?
Thanks so much for your time, really appreciate your feedback.