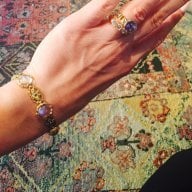 Joined

Apr 22, 2017
Messages

3,757
Today Im planning on making some earrings with sterling silver leverbacks but I'm curious if any of you recognize the material.

My mother was given these two necklaces that hold these reddish-orange beads that are neatly shaped together like fish scales.

We both think they're coral but I'm not that familiar with coral to say definitively. They've always been held together with straw, but the straw became brittle and they've broken apart.

Native American or African even?

@stracci2000

do you have any ideas? I feel like you might know out of everyone!
Really pretty! My guess is that they are African glass . This is solely based on my friend, jewelry designer Masha Archer's work. She has used a lot of these beads in her creations.