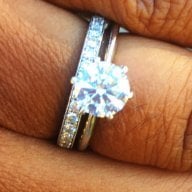 Joined

Mar 25, 2014
Messages

1,514
I waited all day for my UPS delivery and my band was finally delivered at 7:25pm
. It was well worth the wait though! I just love it!
I have been wanting a simple classic diamond wedding band for some time. I had the
BGD
Dream band, which was gorgeous, but I felt that it was a bit too distracting and blingy for my solitaire. I would love to have a 2.5 pointer or 3 pointer diamond band in the future but the 5 pointers were a bit much for my eyes. I wanted a diamond band that would be both delicate and durable while providing beautiful sparkle without being overpowering. I decided to purchase a channel set band from Facets or a single cut diamond band from David Klass. I fell in love with single cut diamonds after purchasing a band on Ebay, but the band was too tall for my e-ring. Once I decided that I really wanted single cut diamonds, I contacted David Klass and we started the process of designing my ring.
The other reason that I wanted single cut diamonds is because they, IMO, add a vintage aspect to the band. My previous e-ring set had engraving all over it and was in a vintage style. I loved that set, which was from antiqueengagementrings.com, however, it did not work with my replacement diamond and I wanted a classic, clean look to offset the chaos of raising twin boys- now 4.5 and taking care my first baby (LOL), their father. I love the clean lines of my solitaire but missed some elements of my previous set. I requested a wheat design which symbolizes a bountiful and plentiful harvest as this is something that I always aspire as an end goal in whatever I do, especially with my family.
I received the first set of CADs rather quickly and was totally lost. Thank God for PS! I started a post in Rocky Talk and further fine tuned the vision for my ring while several PSers gave me advice. Mrs_Blop and Diamondseeker2006 kindly held my virtual hand and gave me invaluable knowledgable and guidance so that I was able to effectively communicate my desires to DK. Thank you again, ladies!

As for David, he was so kind and never indicated frustration at my bumbling attempts to describe what I wanted from him. He was professional and courteous. I will certainly work with David on future projects!
My ring is so sparkly that my mother notices it across the room and her eyes are not that great. The width is wonderful, I can wear it alone and it feels just right. The way the single cut stones sparkle is the perfect complement to my
BGD
Blue! The expertly executed wheat design and delicate milgrain is just beautiful to look at! I love how the platinum feels and am looking forward to the patina to develop.
Here are the stats-
.40 G/VS Single Cut Stones
Platinum Half Eternity
2.5mm wide x 1.7 mm tall
Loose size 7