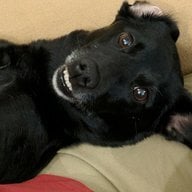 Joined

Sep 1, 2009
Messages

10,287
mary poppins|1457502418|4001934 said:

When DH and I told our vet that our cat poops every other day, the vet said she should be pooping once a day. The vet suggested we include more fiber in her diet via some alternatives, one of which was pumpkin. Well, not surprisingly, our cat was not interested in plain pumpkin, but she loves our recipe which we call "poopkin". We mix a can of wet cat food with an equal amount of 100% pure canned pumpkin (like Libby's, no sugar added and not pumpkin pie mix). We give her a tablespoon or two of that per day to supplement her dry food. Not only does she love, love, love it, but she poos regularly once per day.

If you don't want to go with the dulcolax option, you can check with your vet to see if poopkin is a good alternative for your current situation.
Thanks! I'll look into that. We had been doing that for one of our dogs who needed some help. I had forgotten about pumpkin.
I'm mixing a vitamin supplement into her food right now to make sure she gets all the nutrition she needs. I think it has pumpkin too. Probably not enough...
I think one of the issues is that she hadn't been eating great or drinking much so it wasn't moving. She is also spending a lot more time just laying still so that can't be helping either.
She got rid of some urine in her box this morning. Got her next dose of thyroid meds. After eating so well last night (all of her food plus another 1/2 of the extra I gave her as she was looking for more), she really didn't eat much of anything this morning. Maybe a couple of tablespoons.
I needed to get 3/4 of a pill into her for the next antibiotic (the stronger one the emergency vet prescribed to go in addition to the time release injection she had) but could only get 1/4. She is NOT good at pills. The vet was going to show me how to do it (and suggested if I couldn't manage I could take her to the vet once a day and they would do it for me) the right way -- use a pill pusher thing and stick it way to the back, hold her mouth shut, and rub to get her to swallow. I couldn't help but smile as Lily showed her what I had tried to explain. She won't swallow unless she wants to. The vet tried sticking water in after it and even a bit of food. Took her 15+ minutes to get her to take it. (I did have to assure her that yes, Lilly can swallow. She has always done this!)
ETA: Oh! She even cleaned her fur a little last night.