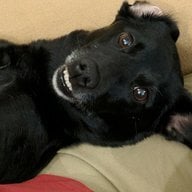 Joined

Sep 1, 2009
Messages

10,166
My sweet Lily is in the vet's office now. Hoping she survives the xrays and they can get what they need to treat her. Should know that in the next hour...

Took her in last week after work for a sinus infection. Time release antibiotics injection will keep giving dose through next Thursday. Last night, she was hardly able to stand. Wobbly and weak. Then trouble breathing. Panting.

I took today off work to get her in first thing for more subcutaneous fluidids thinking she is still dehydrated. Described to vet. Settled on more fluids, B12 complex, and some blood work and UA to check kidneys and thyroid.

Scared the poor (super wonderful) vet as she got excited over fluids and had trouble breathing. Not just asthma. Heart rate up and all that. Concerned if we give her albuterol it could kill her. Got her back to okay and we left. I stuck her carrier in the front seat with me and she had started panting before we even got moving.

Took her back inside. Vet wants xrays to check lung diseases, asthma, kidneys, heart, whatever. She is concerned Lily will go into cardiac arrest of we treat wrong or don't treat.

So.... Hear I am sitting in the car waiting. Hoping she lives through the xrays (vet is worried). After that, we worry about what is wrong and how to treat.

$200 + $280 already. Now xrays at just under $500. We are still recovering from 18 months no income. Grateful this is happening now when we can make it work and not 4 months ago when we just couldn't have come up with the money. I just want my sweet girl back and healthy!