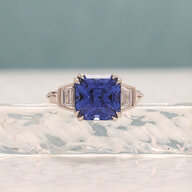 Joined

Feb 21, 2010
Messages

1,488
Lovely!!!

Do u know your pear dimensions and any headshots?
Here's the original thread with more pictures.
I'm sorry but what tint? I genuinely can't see any overt tint, maybe a small impression of warmth? in the new setting. In the old setting, it looks like a light yellow! How amazing. Looking forward to handshots. It is stunning reset! I think there may be a wee bit of lighting doing some favors...