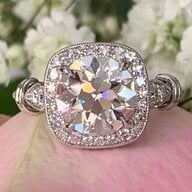 Joined

Jan 11, 2006
Messages

57,639
I recently had a birthday and my husband and mother-in-law spoiled me!

The first item I want to share is a very generous VCA gift certificate from my MIL. It was so beautifully presented in their signature silvery green wrapping, bow and folder. I took a few "still life" photos around my house with it...

I haven't decided what to purchase. I'll probably save it for a few months while I replenish my Sparkly Fund and then go for a white gold and diamond vintage single motif pendant. (The certificate gets me almost half the way there! Woo hoo!)

And am I allowed to give a shout out to my sales associate? Patrick Levrat of the Houston boutique goes above and beyond in service! The gift certificate was an unusual request for several reasons I won't bore you with here, but Patrick didn't bat an eye and made the experience easy and fun. He knows how to pamper his customers!
What a PERFECT gift!!! And I love the idea of the wg pave VA pendant! I love mine! Happy birthday!!!