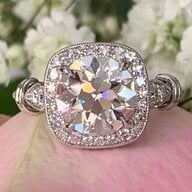 Joined

Jan 11, 2006
Messages

57,395
I was looking at TheRealReal today and see that they are selling pre-loved, current VCA pieces for MORE than the new ones directly from VCA. (And TheRealReal is fibbing about how much the new pieces are selling for!) I know that the VCA inventory is low right now, but its insane to pay more for a pre-loved piece then a new one!

Here's what I mean:

From the VCA website $2,710:

From TheRealReal: $2,895:
Actually, I believe the one The RealReal has listed is Chaldedony which is currently on the VCA site at $3,050...the one you show from the site is Mother-of-pearl which is a tad less expensive new. They look very similar in photos but TRR properly identifies theirs in the description.
Good catch on the stone difference! I just looked it up and the $3050 is the correct price for the chalcedony pendant new. However, there is no way I'd pay $2895 for a second hand piece when it is a current item that I can wait and get brand new for only $155 more once they come back in stock!