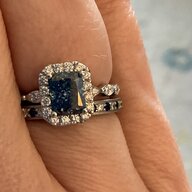 Joined

Apr 17, 2006
Messages

2,380
This thread is to showcase the unusual stones or settings that people actually collect.
Things that PSers might know about but the average consumer may not, like Octavias, are welcome.

Please join me here in posting the jewels you actually own which are less common, either by stone or by setting.
There is a thread in Rocky Talky called "Unique, interesting, or just plain odd stones...Post them here!.
"

https://www.pricescope.com/communit...-just-plain-odd-stones-post-them-here.258921/

Mostly there are images of stones that PSers find online but don't own. It is not a "show me your" thread and also does not include settings. A thread featuring actual collections might be fun.

There is also a thread in LGD called "
Not-of-this-Earth specialty-cut grudge match! (I.e. show me your LGD specialty cuts.)"
https://www.pricescope.com/communit...h-i-e-show-me-your-lgd-specialty-cuts.271369/
That one includes stones that people find online plus ones they actually own, but not settings. Maybe people could post unusual settings containing lab stones here so long as the focus is not on the diamond?
To start things off, here is my spinning hexagon portrait cut pendant.