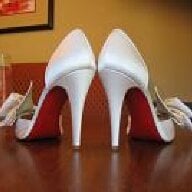 Joined

Nov 13, 2007
Messages

5,720
I realized that most of the PSer''s around here have the teeniest finger EVER!!!

However, I have a size 7(when its not really humid) and I have been blessed with mother''s short fingers, which is odd since I''m almost 5-9, and bigger knuckels. Chris, my FF, has purchased the setting already and recently told me that he decided on a diamond!!! He informed me that he opted for a smaller diamond that what he wanted, but has a better cut and color... The lady that he has been working with is great, and has really taught him alot!! I''m so proud!!
Anyway...Since I refuse to go see mine, I would LOVE to see ALL your size 7 rings!! I hope this brings posts like the 5''s and 6''s... I''ve never seen such beautiful diamonds and stones!!!