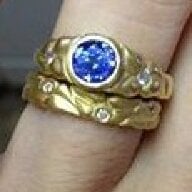 Joined

Jan 23, 2008
Messages

3,545
I would really love to see everyone cabochons-I'm on the hunt (in an ideal world for a neon purple star sapphire) for a cab-and would love to see the colors that you guys are sporting in your collections. My budget is very limited-so on my hunt I have to remain pretty open minded. I have less than 1k to get a stone since I'll be having a James meyer inspired setting created for it (hopefully by David Klass but I have reached out to another artisan vendor that I'm praying I can work with) but I'd like to see what you guys have to help me narrow down my search. I want something no larger than 2 carats (I realize weight is hard on CS, especially cabs due to carrying their weight in the depth) and I'm not really interested in the light blue/silver star sapphires. A nice star ruby (or non-star) or sapphire would be something I would love to find since I'm super hard on my rings. The only ring James Meyer had in my budget (since its pre-made he prices things differently than if he sourced the stone and creates something from scratch) is this one-and while I do really like it and it is in my budget it just kind of appears like a run of the mill bezel set cab sapphire ring to me. It doesn't have his signature leaf or scrolls that I've grown to love-if it did I would have already been all over it
http://jamesmeyerjewelry.com/wordpress/1503-2/#.VnruCyWP87w
I'm hoping to create something in either yellow gold, unplated white gold or even rose gold depending on the stone I can find. I'm fairly open to size/treatments (although I would prefer none) and will go as small as .5 carat in order to get the color that I'm after. I really love the neon glow that paribas have but they are cost prohibitive as well as too soft for me (I'm super hard on my jewelery).
I've hunted all the recommended vendors and they don't have much in their inventory in the budget/size (I should note-for the right stone with that WOW color it doesn't have to be a cab-but for hunting purposes that's where my focus lies. If something really fab comes along and is the right price with that popping glow I'll happily give it a forever home on my finger).
I love the color of justin cutters wife's sapphire, I love neon purple and green but the green needs to be a nice rich and deep green so I'm open to that in spinel too. First choice would be a sapphire but I'm totally open to a spinel cab too. Would prefer it to be an oval, but that isn't a deal breaker.
I've enlisted the help of thegemstone project-so she's going to see what her sources have and I've also posted to the fine faceted gemstone market on facebook in hopes someone has something hiding in their stash that will work in my very modest budget. I'm so green with this and honestly-this will likely be my one and only. Adding funds isn't an option unless i feel like liquidating more of my jewelery which I really don't care to do since I wear most all of it at this point. So the more budget friendly the stone the better.
My order too tall ya think?
I'd love to see your pretty cabs as inspiration while hunting for my own. I'll post a couple of more rings that I like (I like the organic leaf style) as well as pictures of the 2 JM rings where my sketch came from in the next post. Thank so much for reading!