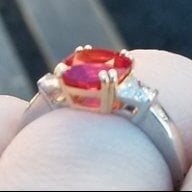 Joined

Nov 3, 2009
Messages

7,589
Hi everyone... Merry Christmas! Stay healthy!
I have not posted here for a while, family situation and business taking away all my time. But I respect PS and the forumites, and this is probably one of my last attempts to avoid a potentially messy situation.
In the beginning of the year, I bought a 3.26 ct. unheated Mozambique ruby. Certed and all.
It is not a pigeon blood color, but a ruby is a ruby, and I considered it to be a fair deal.
In late August of this year, I sent this stone to a famed Californian jeweler, Scott Schreiber. To be quite fair, I did not plan to...Scott was asking me to give him some custom work, with a deposit. The jeweler who I use most often was backlogged, and I felt that the ruby was worthy of Scott's talent, which he undoubtedly has.
My prior experience with Scott was mostly, positive, except for the length of time it took him to make my earrings... this time, he solenmly promised to finish the job in time.
In October, he asked for an extension till November 5th. I gave it to him. In mid-November, having returned from an exhausting trip to my father, I realized that I heard nothing from Scott. In short, I found out that his Facebook was abandoned, his two phones known to me were disconnected, the third one he would not answer, nor did he return my emails.
At that point in time, my lawyer advised me to start a formal process of retrieving the stone. However, I decided to give it the benefit of the doubt. I respected Scott, and moreover, people in the industry told me that absconding with a client's stone was totally unheard of... in short, i just gave Scott some time to answer, to return the stone, to make an arrangement to pay back the deposit, should he have no money. Or, thought i, if he damaged the stone, to contact me and arrange for replacement.
Skipping the details, Scott was obviously staying in the house, and even posting, only not on his Facebook. But he never, ever contacted me. So I am making my conclusions. Today someone, not from people known here, hinted at the fact that the stone might have been long sold. I do not know any longer.
So I am preparing for a formal complaint. I do not know where it will lead me, I have all communication, and still keep the certificate for the stone.
Here is the question/comment I want to make. This industry, like many others, have switched onto online business. To a huge degree, it depends on someone's honest word. Reputations like Scott's are not made overnight.
In the wake of the New Year, I planned to buy a sapphire, or a colored diamond. I am not doing anything. Simply put, I am a little bit shocked. I had tiny problems, occasionally, with vendors. But I could never say that the industry was dishonest. But today, I am thinking, if one jeweler stole my ruby, how can anyone be trusted? So I wish luck to whoever buys a beautiful sapphire, or a yellow diamond, it is not for me.
Basically, the gist of my rant:
The picture of the ruby. I believe now it is stolen. Do not buy it if you see it...I still have the certificate, and I shall get to the lab, if needed, to prove. Unless someone recuts it... but it will be a huge loss!