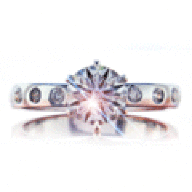 Joined

Apr 19, 2010
Messages

3,296
I received my pink pear this weekend and I am trying to decide if I want to keep it so of course I need the help of my fellow PSers

This pear is a 3.24 ct Nigerian Pink Tourmaline and it measures 12.4 x 8.5mm. I am a little concerned about the size of it, being that I want to put it in a ring setting and my finger size is 4.25. I'm wondering if I should hold out for something a tad smaller...
I wasn't looking for anything in particular in this stone, I just really want a nice pear-shaped stone in a halo setting with a split-shank. I like bigger stones but I'm wondering if this is just a tad TOO big.
I like the peachiness of the stone in the vendor pic, but its more of a straight pink IRL. This stone is nearly impossible to photograph accurately, I don't know why I can't get it right.
So let me know what you think? Is it a keeper? Or is there anything about the color/cut that isn't doing it for ya?
First are the vendor pics: