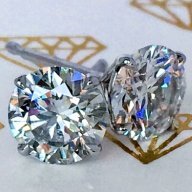 Joined

Apr 21, 2013
Messages

192
This is such an interesting thread.

Just like so many parts of culture, this "surprise engagement + ring" is such a trap for both men and women. Our culture has somehow convinced men that they alone need to choose when the couple will decide to marry, how to propose, decide how much to spend on the ring and raise the funds, pick a ring to her tastes, etc. And we've convinced (many) men that to deviate from this "fairytale" script would be emasculating for them and disappointing for the women they love. This can't be good for men.

At the same time, the culture tells women they should wait / pine for their partner to discuss marriage (note the name of the PS Ladies in Waiting forum), never express preferences about proposal or ring, not contribute financially to the ring, and be completely thrilled with whatever their partner presents because it is from him. This can't be good for women.

A marriage is a partnership, and this is terrible practice for partnership. I love the FirstRing idea, I love heartfelt proposals, I love romantic gestures, I love whatever configurations are actually right for the couples involved. I just wish more couples felt unrestrained by the expectations of "how a proposal is supposed to happen"