Joined

Dec 8, 2014
Messages

67
Hey guys! Some of you may remember me! I purchased my ring last year at the beginning of 2015. I had planned to propose a lot earlier but we wanted to wait for a few more things to fall into place - ducks in a row as they say!
The magical moment finally happened on my birthday this past Tuesday! The plan had been in place for close to a year and involved dinner at the same table at our first date, a helicopter ride over niagara falls, landing directly on an orchard/winery, walking through the beautiful trees with lit torches and lanterns, walking through a garden, walking into a beautiful rustic decorated barn with candles everywhere, a photobook that I had made of our love story and rose petals everywhere! We walked out of the barn onto a decorated dance floor with overhanging lights. The magic happened right there! Below are the ring specs and some beautiful hand shots for you guys!
My review of DBL:
https://www.pricescope.com/communit...ow-diamond-e-ring-dbl-review-pictures.213014/
Center Stone:
Size: 1.01 ct
Cut: Cushion Cut
Colour: Fancy Intense Yellow
Clarity: VS2
Measurements: 5.52 x 5.52 x 3.66 mm
Total Depth: 66.3%
Table Size: 67%
Polish: EX
Symmetry: VG
Fluorescence: Medium Blue
GIA Report #: 5161472251
Link to Gia Report:
http://www.gia.edu/cs/Satellite?pagename=GST%2FDispatcher&childpagename=GIA%2FPage%2FReportCheck&c=Page&cid=1355954554547&reportno=5161472251
Side Stones:
Total Weight: 0.45cts
Quantity: 56 (a happy surprise - dads year of birth
)
Shape: Round Brilliant
Color: E-F
Clarity: VS
Mounting: 18 Karat White and Yellow Gold
Ring Size: 4.75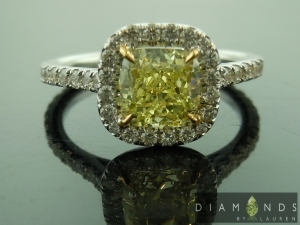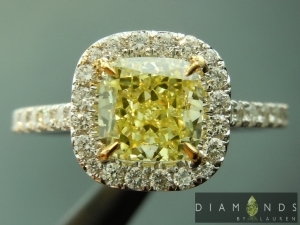 Hand Shots!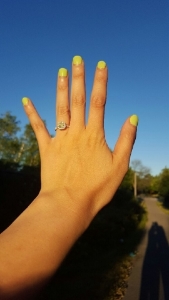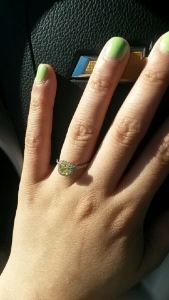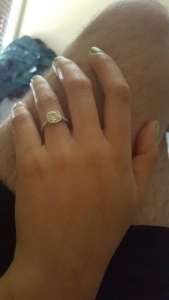 One engagement shot!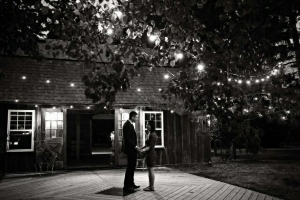 Hope you guys enjoy!!!