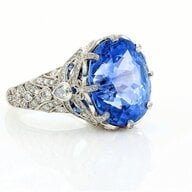 Joined

Apr 29, 2020
Messages

251
I just sent my sapphire to Steven Kirsch for him to design a ring for me. I love my setting he designed for my diamond and I can't wait to see what he comes up with for me now. I was not sure it was worthy of one of his settings, so I sent it off to get a certificate to tell me more about it. It is from Sri Lanka and it has not been heated or treated in any way.
I sent Steven a message asking if he could help me again on another project and told him what I was wanting in style. He is working on a few sketches for me to look at .He received the sapphire today and I am hoping to have a very beautiful ring in a little while. I am attaching a picture of the" before "Steven and I will post an after,
when I get it. I have asked him for a romantic look with diamonds and bows with nothing visible from the top but the sapphire.