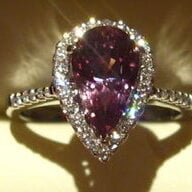 Joined

Jun 29, 2008
Messages

10,224
I know this technically should be in the Rocky Talky section but I need the help of my creative fellow coloured stoners!
I''ve just bought a GORGEOUS Old Mine Cut diamond with the following stats:
0.52ct
4.73 x 4.36 x 3.24mm
I colour
Si clarity but with a pretty nasty chip (see picture 1 below)
I very rarely buy a diamond under 1ct (I have sausage fingers!) but there was just something about this diamond that pulled me to it. I love the symmetry. Mmmmmmmmmmmm

So, what I want to do is set it in an antique type setting. The prongs I want I''ve seen on replica and vintage settings but don''t know their name - there are 3 prongs forming a squareish corner (similar to picture 2 below). I''m hoping that this type of prong might hide the corner damage. What do you think?
Then, because the diamond is much smaller than I''m used to, I''d like to have it set in an illusion style setting - like picture 3 below but in a cushion shape.
Please can I have your thoughts on this setting - have you seen one? Would it work? Would it hide the damage?
If you have any other suggestions, I''m all ears.