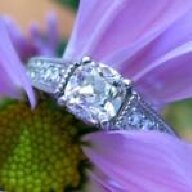 Joined

Nov 2, 2010
Messages

101
Hey everyone,
I was thinking that since diamond prices are so high right now, it would be a good idea to set my .6 RB heirloom stone and use it for an engagement ring. Kinda untraditional, I know, for a girl to basically provide her own diamond. I've already found out that
BlueNile
will not set diamonds that aren't theirs. Are most other companies willing to do this? (
White Flash
,
Brian Gavin
, etc). Also, I have no idea about the process involved with getting a stone set.

Can anyone recommend some good people to look into, share experiences etc?
These diamond prices are really a downer for those of us wanting to get engaged soon. I don't want to throw too much money away on a setting because later on, when we can afford a 1+ carat stone, it wouldn't fit in the setting holding my 0.6 would it?
At the same time I want to get a setting that I love because who knows how long it will be until that "upgrade". I'm just trying to figure out a way to do this without spending too much money! I'm not into diamond upgrade policies because I have sentimental attachments to stones. Even a .5-.75 these days would break the bank anyway!
/rant over. Thanks in advance!

Mmi