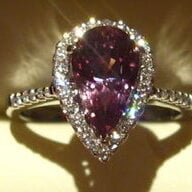 Joined

Jun 29, 2008
Messages

10,228
Nat - I didn't realise this was your engagement ring (congratulations!). As it is, may I make a suggestion please? Tourmalines are NOT the hardiest of gemstones. You will need to baby this ring so please make sure you take it off when you do any household jobs, never get it near water (just a precaution) and don't wear it to bed, do the gardening etc! I know this sounds ridiculous but people don't realise that even diamonds can chip and crack so with a tourmaline you need to be a bit more cautious.

BTW, I don't think it's "out there" at all (or maybe I'm de-sensitised because I've been around jewellery and gemstones for many years)! I think it's a lovely design that you should wear with pride.

Have you thought about a wedding ring? May I suggest you keep with the rose gold? I'm not sure how it would look with another metal? If you're desperate for another metal then you could have a (for example) white gold central band, flanked by two small rose gold bands soldered together. Just a thought!