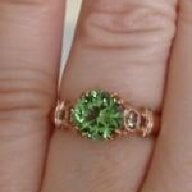 Joined

May 1, 2011
Messages

509
... and Dan and Caren have worked miracles with the proportioning, making it possible to snuggle the bezels into the split shank plus make the design an 8-prong imitating double-pronging, as I asked for. The bezels and the small cuffs will be delicate milgrain.
I am very happy with all the proportions: I think it will look elegant, interesting, but still not too fussy. It's hard to look beyond the bulkiness of CADs but I'm trying my best
My only observation is that there seems to be a bit of a kink in the strand coming up under the centre stone on the left: I'd like that to move in a straight line. Other than that: perfect! Yey!