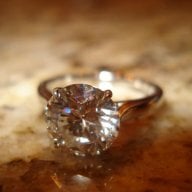 Joined

Sep 13, 2006
Messages

295
I am researching 2 different setting for my 2 carat RB. I am in love with the Danhov ME6 setting
http://www.jamesallen.com/designer-jewelry/meno_collection_by_danhov.asp?module=setting&cid=294&item=88
but i am very worried about the pave. I have had one pave RHR and 2 diamonds have fallen out. Granted the RHR was bought of ebay and was not manufactued by a top designer.
Does anyone have any opinions on pave and if i should continue to persue this setting.
The other setting i had in mind was a Leon Mege 3 stone classic with baguettes.
Thanks for your input.